31 August, 2015
Southwest Avocado Chicken Salad
Posted in :
Ethnic
,
Meals
,
Salad
,
Side Dish
on
by :
rereinke@yahoo.com
Tags:
florida avacado
,
ranch
,
Southwest Salad
,
sriracha
I was inspired to make this salad when I received fresh Florida avocados in the mail! If you have never tried one it is a must and very different form a California Haas avocado. The ones you buy in the supermarket here in Missouri are all California grown. Florida avocados are the larger and have smooth-skin. The biggest nutritional difference between California and Florida avocados is their fat content……California ones have 4.6 grams of fat versus a Florida one only has 3 grams of fat to the same portion.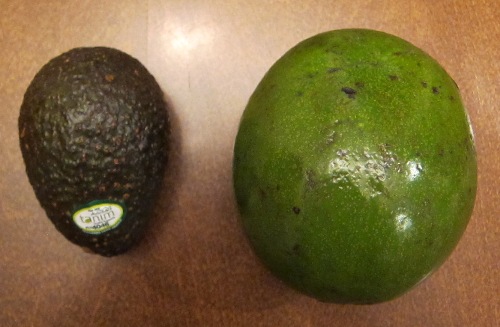 Ingredients:
1 Florida avocado cubes
1/2 can of black beans drained and rinsed
1/2 bag frozen corn cooked and cooled
10-12 pickled jalapenos (optional)
10 grape tomatoes cubed
2 bags of sweet bliss lettuce combination (can use romaine also)
2 grilled chicken breasts sliced (may also use frozen chicken breasts)
tortilla chips for garnish (may also crush up in the salad)
For the dressing
There are two options:  In the past a mix of sour cream and salsa equal parts. This time however I used Sriracha Ranch form Trader Joes.
I really enjoy spicy dishes and this dressing does not disappoint. If you do want a milder version I would recommend the sour cream salsa mixture.
Instructions:
Mix all ingredients together and enjoy!
This recipe yields 4 adult servings